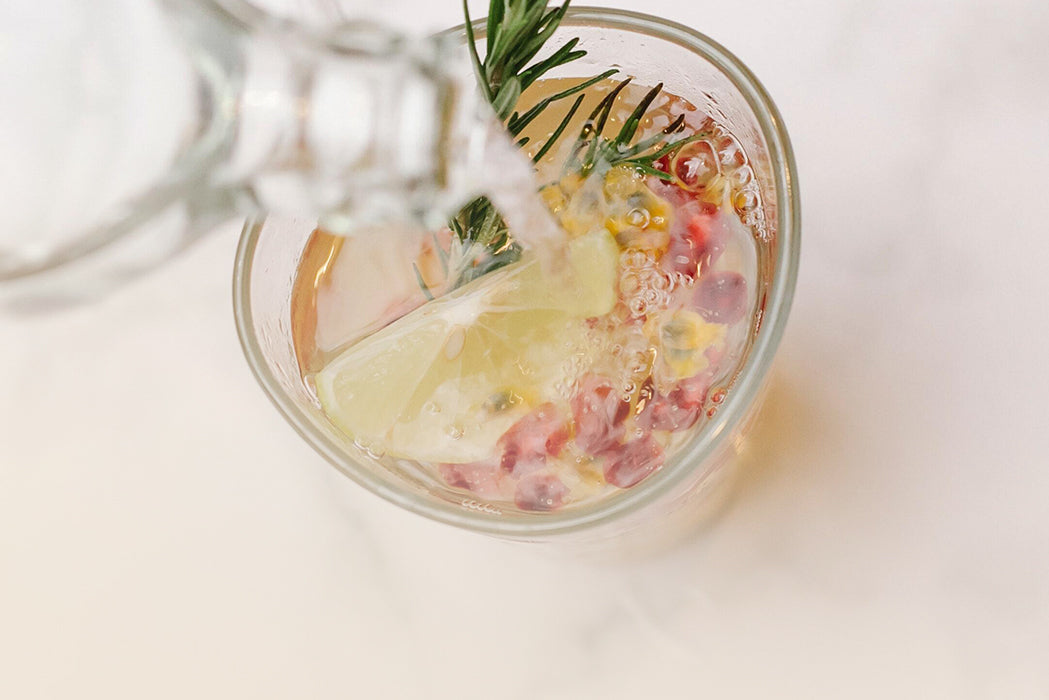 · By Merle von KOMBUCHERY
Kombucha Fermentation and Water Quality: Which Water Does the Scoby Like Most?
In an exciting interview, Leogant founder Thomas Hartwig tells us all the expert tips on vitalized water!
High-quality water is essential for our unpasteurized kombucha. Just like our body, a Scoby notices very quickly which water is particularly good for him.
Water for fermentation should always be filtered and free from harmful residues.
In our exciting interview with Leogant Founder Thomas Hartwig you will get many important insights on the subject of water and water filtration. We will also give you useful
tips on how you can filter and prepare your own water for kombucha fermentation at home.

The way to the Leogant founding of the Berlin water guru
How did you come up with the idea of ​​founding Leogant? Please introduce yourself!
I founded Leogant about 12 years ago. The foundation was much more than a simple business case. More of a life's work and always with a very clear focus on a conscious business with meaning. At the beginning there was always a very clear purpose, namely to give people a good feeling with good water. The business model was more in the background. I myself am a trained restaurateur and later studied the Asian martial art Kung Fu in China. I've always had an affinity for high-quality food and feeling good about my body. Back in Berlin, I continued to deal a lot with nutrition and sport and followed a vegan diet. With 6 hours of sport a day, I quickly noticed how much better my body was with high-quality spring water from the organic market. It had such a big impact on my performance and regeneration that I couldn't let go of the topic of water. In general, I slowly began to perceive my body more holistically.
Actually, it is obvious, because our body and our earth consist largely of water. With high-quality water, my body changed not only during physical activities and high-performance sports, but I also noticed a positive influence in terms of concentration and body odor. Water is also very interesting on a scientific level. No substance has so many properties, anomalies that science cannot explain. With the founding of Leogant and our water filter systems, I have developed a sustainable and holistic solution to respond to the individual needs of people and would like to focus more on the importance of water for our organism. The whole thing with a sustainable business without compromises.



How does the LEOGANT filter work?
I packed the first packages with water filters myself back then in my 20 square meter office. I collected boxes from everywhere to work as sustainably as possible. This sustainability, which was not as en vogue back then as it is now, is still reflected in our filter systems today. All components of the water filters are already existing products.
Right from the start, I take a close look at what the market already has to offer,
take apart the existing systems, see how I can improve them and put them back together as a newly combined water filter.
The 2-phase filter system
The important approach behind it is a very consistent natural approach or a natural water treatment. Our 2-phase system filters and – what is special – it revitalizes the water. This means that in the first phase
residues of hormones, medicines, pesticides, microplastics, parasites, lead, copper, chlorine and many other chemical and organic residues are removed with the help of activated carbon cartridges.
In the second phase of the water treatment, the
vitalization
takes place, which turns the tap water into living water in spring quality.

What happens to the lime in the water?
The lime content is often viewed very critically. Lime occurs naturally in water and contributes significantly to its taste. That's why we don't remove the lime at first, but prepare it in such a way that it is bioavailable for our body and does not form unwanted deposits. Calcium and magnesium are essential minerals for humans. In the end, the degree of hardness of the water remains a question of taste and can of course also be filtered if desired.
Have you already dealt with kombucha?
I've been a big Kombucha fan for years and was even a speaker at the first Kombucha Summit. The kombucha community is super inquisitive and has a remarkable cohesion. I sometimes miss that with the water experts.
Good quality water is essential for a good kombucha. You can taste the difference right away.
I work with some Berlin kombucha makers and we build our Leogant water filters into their kombucha breweries. Super exciting to accompany the manufacturers on their way and to influence their different kombucha tastes.
Why do you think filtered water is better for Kombucha fermentation?
Differences tap water filtered and unfiltered
In my opinion, a clear distinction should be made between water for machines and drinking water for people. The water works bring a great performance that enables us to get clear water at any time in everyday life. Nevertheless, understandably, with their filter system they do not create spring water quality like in nature. Considering water as a foodstuff, don't we all want to get the highest possible quality?
I have two options here: either I buy high-quality spring water in a glass bottle in a health food store or I get a water filter and treat my tap water myself.
The result: Our body is revitalized and better supported in detoxification than usual and of course this also has a significant effect on the fermentation of Kombucha.
Effects of vitalized water on kombucha
Experience shows that filtered and vitalized water significantly improves the fermentation process.
Just like flowers and herbs last longer with vitalized water, the Scoby is happy about the premium water quality. The
tea fungus grows faster, the alcohol content is different and the Scoby is not as susceptible to mold
- and you get a higher quality vitalized kombucha.
Filtered water gives the kombucha a special taste
Depending on the type of filtering and the conditions of the region from which the water comes, the water quality also influences the pH value and thus the taste of the kombucha. The water should not be too hard, but not too soft either. That is of course a matter of taste. The fewer minerals in the filtered water, the more acidic the water is. This affects the pH when fermenting kombucha. For tea and coffee, slightly softer water is conducive to taste. The tea fungus likes it a bit sour. Descaling water can therefore have enormous disadvantages, which then also affect the taste of the kombucha.



What first tips can you give our readers at home to improve their water quality for fermentation?
Always let the water drain from the tap until it is noticeably colder. Most of the dirt is actually in the pipes and fittings. This can take 30 seconds on the ground floor, but sometimes 3 minutes on the 8th floor.


What also works, of course , is to boil the water if you don't have a filter. Then allow to cool and pass through a coffee filter to filter out suspended matter, limescale and dirt. This naturally downgrades the level of hardness.


Semi-precious stones such as rock crystal, amethyst and rose quartz can revitalize the water. Just add a few to your water in a pitcher. It is best to always use the tumbled semi-precious stones, as bacteria can settle in the recesses of the non-tumbled stones and it is not so easy to clean them.


In general, it should be noted that bottled water is even worse controlled than our tap water. Exceptions are some spring water from glass bottles, which you can usually get in the organic market. Examples of this are Preußenquelle and St. Leonhard.


Start with the AVAIO tabletop filter or another system from LEOGANT. With the voucher code KOMBUCHERYXXLEOGANT2021X you get 10% on your first purchase in the LEOGANT online shop .

A strong water community as a vision for the future
What is your personal mission for the future?
In my post Leogant vision, after 12 years in the "water business", I simply want to stand for the whole exciting water topic on the meta level. I want to build a strong water community, because it is well known that together is always better than against each other. Also happy to develop great concepts on the subject of water with competitors and sensitize people to the topic.
Hinweis: Dieser Artikel ist ausschließlich für Informationszwecke bestimmt und nicht als professionelle Analyse, Beratung oder medizinische Auskunft zu verstehen, sondern enthält die persönliche Meinung des Autors, basierend auf recherchierter Fachliteratur und eigener Erfahrung zum Thema.