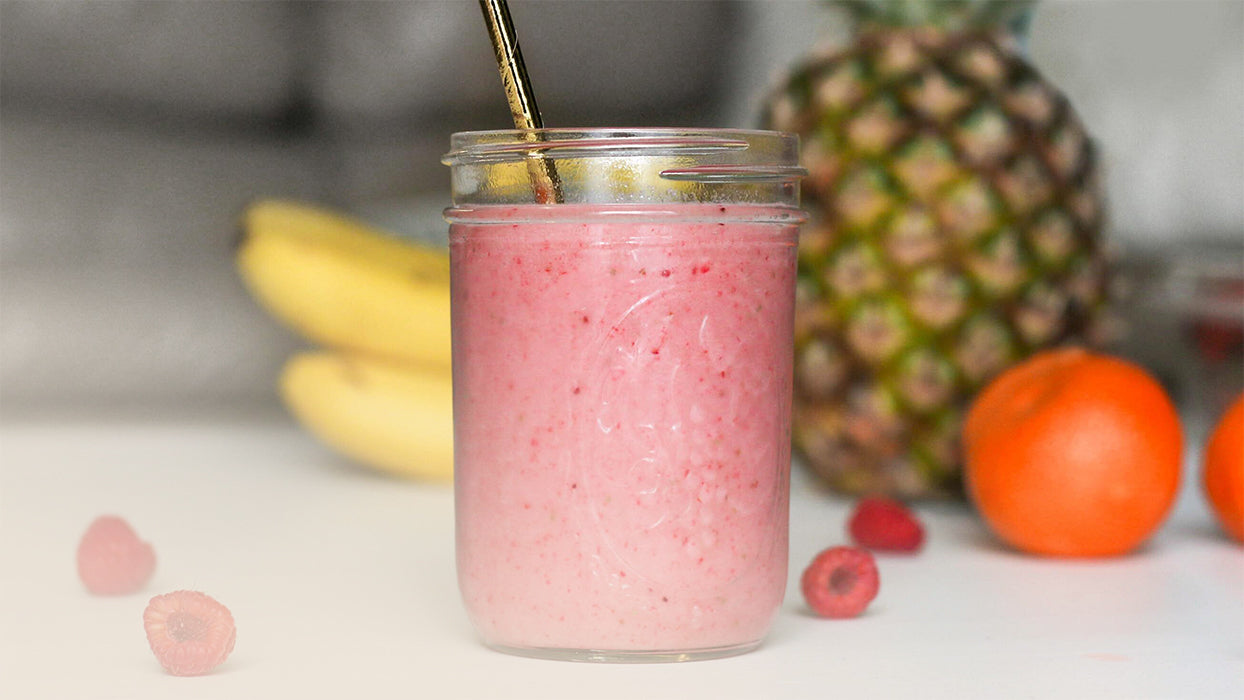 · By Merle von KOMBUCHERY
Kombucha shake with raspberries: so delicious and healthy!
Mix yourself into summer with kombucha!
Yay! Spring is just around the corner and the first warm rays of sunshine spoil us with vitamin D. We can hardly wait for summer and would like to sweeten your anticipation with this refreshing Kombucha shake with raspberries. Kombucha pure is a perfect way to cool down, mixed with delicious berries or other fruits it becomes a refreshing light shake. Raspberries are also high in antioxidants. Just 100 g of the small berry covers 25% of your daily vitamin C requirement.
You need this equipment:
Stand or hand blender
Container for filling the shake
Ingredients for 3 glasses of Kombucha shake:
200 grams of raspberries
1 banana
50ml Original Kombucha
75 ml pear juice
200 ml natural yoghurt
(Soy yoghurt as an alternative for vegans)
75 ml mineral water
For Deco Queens and Kings:
Chia seeds and mint leaves for garnish
And this is how it is mixed:
Wash raspberries
Raspberries, pear juice, banana, natural yoghurt, Raw Original Kombucha and mineral water
Place in blender and blend on medium-high to form a creamy shake
Pour into glasses and decorate as you wish
The creamy refreshment is ready!
Hinweis: Dieser Artikel ist ausschließlich für Informationszwecke bestimmt und nicht als professionelle Analyse, Beratung oder medizinische Auskunft zu verstehen, sondern enthält die persönliche Meinung des Autors, basierend auf recherchierter Fachliteratur und eigener Erfahrung zum Thema.