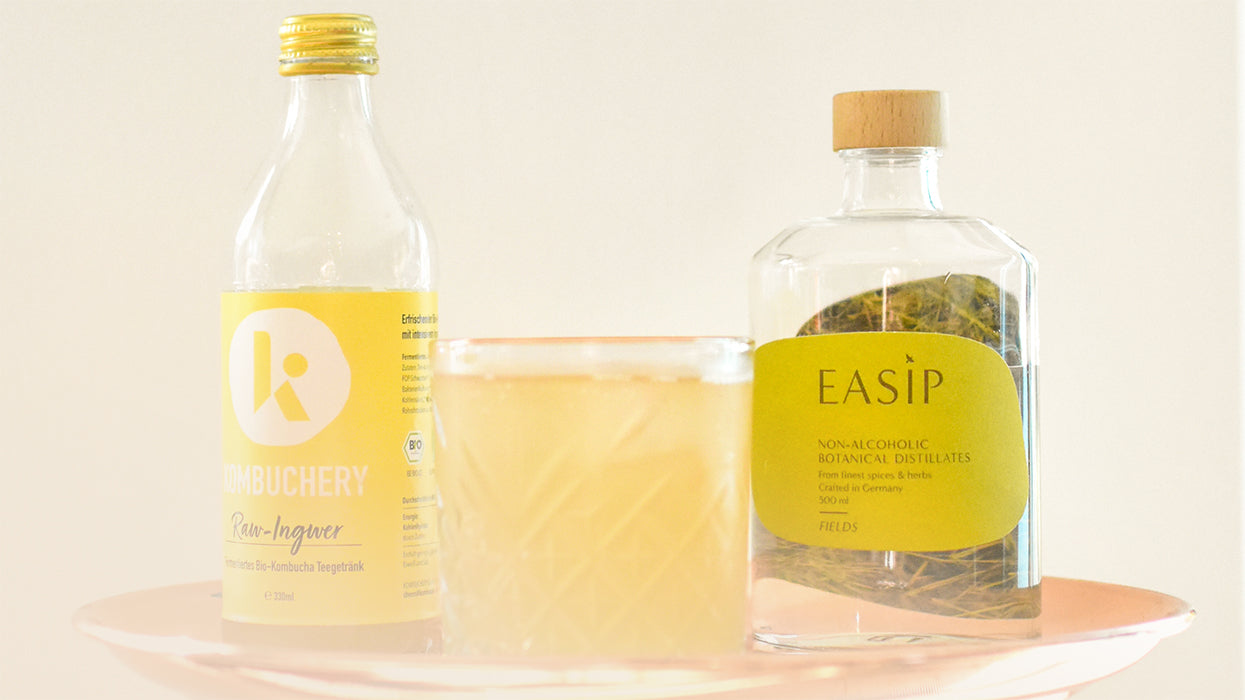 · By Merle von KOMBUCHERY
EASIP Fields as a healthy alcohol alternative - Delicious cocktail recipe
Kombucha as a healthy alcohol alternative
EASIP Fields is a non-alcoholic botanical distillate that offers the perfect alternative to clear spirits. Mixed with our organic kombucha, a cocktail is created that is in no way inferior to alcoholic drinks. Fresh, sparkling, slightly spicy and a hint of sweet and sour kombucha with the pleasant spiciness of ginger.
Do you sometimes miss the alcohol alternatives?
Every day we encounter situations in which we seal special moments with a glass of alcohol here and there. But it doesn't always have to be alcohol! We are happy to introduce you to EASIP Fields. With the help of gentle steam distillation, the taste of the finest, well-known herbs is brought into each of your bottles. Refined with plants from afar, a taste-intensive distillate is created, completely without alcohol. Just like our Kombucha, vegan and without artificial flavors and additives. It's even completely sugar-free. So why always reach for unhealthy sugar-coated cocktails when there are flavorful alternatives?
Kombucha cocktail recipe
KOMBUCHERY & EASIP Fields
Ingredients for 1 glass:
6cl EASIP Fields
ice cubes
Cucumber slices or thyme sprig for decoration
And this is how it is mixed:
Put the ice cubes in the glass
Add 6 cl EASIP Fields
Top up with kombucha and decorate
CHEERS!
Hinweis: Dieser Artikel ist ausschließlich für Informationszwecke bestimmt und nicht als professionelle Analyse, Beratung oder medizinische Auskunft zu verstehen, sondern enthält die persönliche Meinung des Autors, basierend auf recherchierter Fachliteratur und eigener Erfahrung zum Thema.